It sometimes seems like everything new has been done before. Take the Trew Super Down Shirtweight Jacket; another down puffy. At least, on the face of it. But in use, it turns out that the Trew has its own way of doing things, and…well, we like it!
Bucking Outdoor Fashion Trends = Warm & Dry
Second is something seemingly simple but actually functional; the Trew Super Down Shirtweight Jacket bucks the current trend of overstuffed, very narrow channels in the shell. While those do add more control of the down, they also create a whole lot of pinholes for water and air to seep through, plus more places where the insulation narrows and allows conductive loss. We compared the Trew to one of our favorites, the Patagonia Ultralight Down Jacket
, and were impressed with what we found. In fast runs down Cannon Mountain, the Trew, while seeming to be less "puffy," was actually noticeably warmer. We confirmed that with a FLIR thermal imaging camera; in windy conditions there was definitely less overall heat radiating from us (bizarrely enough, you can see from the image that the Trew logo causes more loss than anywhere else on the jacket!). At 10.6 ounces, it weighs in a couple ounces heavier than the Patagonia, but unless you're in a real gram counting situation, you may appreciate the greater warmth and slightly thicker, more abusable nylon shell.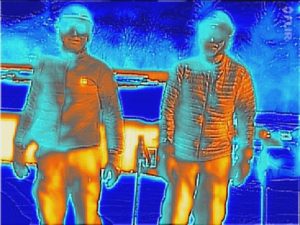 The fit, also, was a change from most of the field. Trew chose to go a bit boxier, with slightly larger sizing, bucking the "athletic fit" trend. Now, we like our mid layers to fit snugly, but since the Trew Super Down Shirtweight Jacket has less of the overstuffed character, it still easily fit under any jacket that we wanted it to. And, when skinning up mountains, it more easily fit OVER our layers when we stopped for tea or lunch. When we wore it into town, the sleeker profile didn't make some of us look quite as, um, "well stuffed" ourselves.
But Wait…Bucking Fashion Trend Makes It More Fashionable?
Speaking of going into town, we definitely appreciated throwing on a jacket that didn't scream "I'm an athlete!" to everyone. The Trew says less "I'm going to climb a mountain after this, in the dark" and more "After dinner, we're headed out to catch a show." For some, that's not the image they're looking for…but it was a nice change for us. And, the shell material furthered that impression; rather than a shiny, ultra-thin ripstop nylon, it has more of a soft, brushed, matte finish. It's quite elegant, and you can be forgiven if you find yourself running your hand over your chest. The material feels THAT good, and makes less of a "crackling" noise when cold than many competitors.
Bottom line: This is a category with a lot of great products, and no, the Trew Super Down Shirtweight Jacket isn't a category killer. But, it's a strong competitor on its technical merits alone, and when you add in the style points, it may be the ideal jacket for someone who doesn't want to fit in with the crowd. As anyone who has ever seen us out on the slopes knows, we prize performance over style, but this is one situation where we can look like we have SOME style, at least, and still have the performance we need! We can't think of a single reason why this jacket shouldn't be on your short list, and if we happen to be on your Christmas list, we wouldn't at all mind receiving one in the interest of making us look less like the nerds we are, for once…